There is no doubt that soccer and politics mix, the choice of venues and the selection process ; whereas the Arab countries get to compete against relatively weak teams, Israel must compete against European teams that are much stronger thus we see teams from Arab countries who lack skills and talent  made it to the world championship ,while in   the Israeli broadcast empathy and sorrow is expressed that the Arab teams have not been  more successful , most countries of the middle east will not only ban Israel but anyone who plays against them . 
It was a political moment when two  Albania soccer players led to an historical   victory over Serbia. 
My observations have been to note how NOT neutral Switzerland is, and having experienced first hand the dislike towards the Albanians who had emigrated to Switzerland as refugees, i feel a certain satisfaction knowing the Swiss owe the Albanians their victory in soccer. 
The war in the Balkan had led to one of the worst massacres in modern times of the Moslem minority by certain Serbian leaders who conducted an ethnic cleansing leaving Albanians hurting and traumatised for generations as the accounts of mass killings and horrific torture of Albanians by Serbian military became known to the world. 
While Switzerland took in Albanians, the Swiss are not too good at hiding their dislike of Albanians, quoting their nationality whenever any Albanian is caught committing a crime, and generalising them as tending to be violent and  criminal , not to mention the anti Moslem sentiments the Swiss hold not allowing Moslem slaughter and not allowing any overt  traditional Moslem head scarf wearing by women who work in public places so this victory by the Albanian players is a victory against the right wing conservative  Swiss who limit the Moslems from building their mosques, from conducting a Moslem life accusing them of animal abuse in slaughter while the Swiss abuse animals in their pharmaceutical industry with too few limitations. 
I personally had nothing but good experience with Albanians and since those supervising the buildings where i had lived were mostly Serbian men, invariably intoxicated , i will never forget the one christmas when i had gone to the common wash room and found a recently slaughtered pig laying on the table of the wash room ! A Serbian festival was the excuse given but i thought it was a clear message for the Jewish or Moslem , though it  could have been  just an act of  insensitivity. 
Another time the Mezzuza i had nailed to   my door ( a religious artefact placed on the doors of Jewish homes) had disappeared and ended up half buried  in the garden and i was told by the Serbian  building superviser  that the dog must have taken it, though there was no dog to be seen..
It was therefore quite amusing to read how angry the Serbians were at the reaction of the Albanians, victims of ethnic cleansing and double biases , by the Swiss and by the Serbians in switzerland and so i applaud this under dog , these athletes who not only managed to survive the hidden and not hidden racism and xenophobia of the Swiss but led their new country to victory in world soccer and where would Switzerland be without their Albanian players ?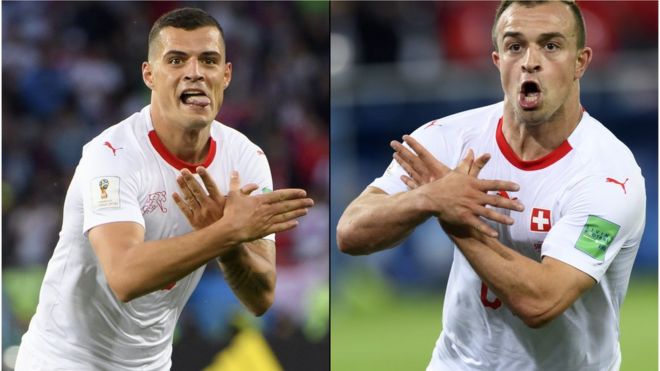 Serbia has hit out at a "provocative" double eagle celebration by two ethnic Albanian goalscorers in the World Cup.
Granit Xhaka and Xherdan Shaqiri scored for Switzerland who beat Serbia 2-1.
Their gesture is a nationalist symbol representing the double headed eagle on Albania's national flag. Critics say it could inflame tensions among Serbian nationalists and ethnic Albanians.
Albanian leaders applauded the pair. A pro-government Serbian newspaper said they had "humiliated" Switzerland.
The celebration has brought political tensions in the Balkans on to the World Cup stage.
BBC Monitoring reports that in Serbia, pro-government newspaper Informer used a derogatory term for Albanians, saying "the Albanian clan within 'clockmakers' team was sending poisoned arrows weeks before, so the match couldn't pass without a provocation".
Some Swiss papers also called the gesture a provocation betraying a lack of political sensitivity.
Both players had earlier been booed by Serbian fans during the match.

Shaqiri later sought to downplay his celebration, saying: "It's just emotion. I'm very happy to score this goal. It's not more. I think we don't have to speak about this now."
Xhaka and Shaqiri's families are from Kosovo, where a Serbian crackdown on the Albanian population only ended with Nato military intervention in 1999.
Xhaka's father spent three-and-a-half years as a political prisoner in Yugoslavia for his support for Kosovan independence. Shaqiri was born in Kosovo and his family fled to Switzerland as refugees.
Kosovo's ethnic Albanian majority declared independence in 2008 but Serbia, its ally Russia and most ethnic Serbs inside Kosovo do not recognise it.
There had already been some tension between the Serbian and ethnic Albanian Swiss players before the game.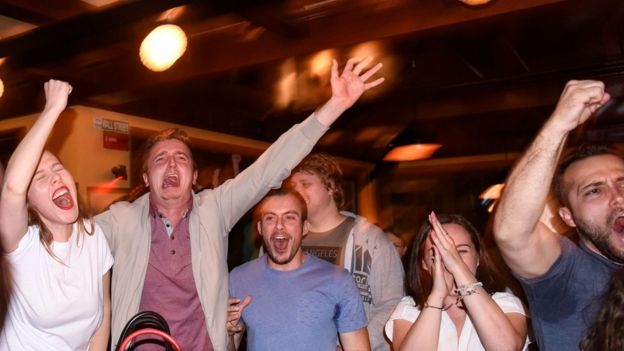 Shaqiri wears boots displaying the Swiss flag on one heel and the Kosovan flag on the other – but Serbian striker Aleksandar Mitrovic asked: "If he loves Kosovo so much and decides to flaunt the flag, why did he refuse a chance to play for their team?"
The Switzerland attacker was then roundly booed by Serbs when his name was announced.

Afterwards the Swiss manager Vladimir Petkovic – born in Bosnia – said: "You should never mix football and politics." Serbian manager Mladen Krstajic – also from Bosnia – refused to comment.
Kosovo President Hashim Thaci said he was "proud" of the players, adding: "Kosovo loves you".

Albanian Prime Minister Edi Rama shared the picture on his Facebook page:

Most Serbian media said the goal celebration was a provocation, but not all took a tone of outrage.
Popular news portal B92 said the match had been made "politically tense"
Widely read Blic said of Shaqiri: "He first made us mourn and then explained after the match in Serbian language why he provoked"
Srbin.info said: "Brutal provocation: Xhaka displays the Albanian eagle after scoring and infuriates all Serbs"
However Vecernje Novosti, Politika and state broadcaster RTS focused instead on a complaint by the Serbian football association over the referee's failure to award a penalty when Mitrovic was apparently wrestled to the ground by two Swiss players.
The Serbian football association is also complaining about Shaqiri's boots, the goal celebrations and Albanian flags in the stands, they reported.
It is not the first time that football has provided a flashpoint for the long and bitter rivalry between Serbia and Albania.
In 2014 a match between the Balkan nations was abandoned after a drone carrying an Albanian flag sparked a brawl. Ordinary Albanian fans had been banned from attending the game.